As production and storytelling strategies become more interactive, technology must evolve to enable this interactivity while maintaining a simple and flexible workflow. This iteration of Tagboard Producer does just that while also setting the stage for future enhancements.
With a streamlined workflow in a cleaner layout and even more flexibility and control over updates in real-time, the new and improved Tagboard Producer is here to help tell your story how you want.
SO WHAT'S NEW AND IMPROVED?
Graphic and Theme Settings: We're adding a layer editor to Producer, so you can update everything from animations, logos, and text, to the name of your theme to help organize your playlist. The best part? It lives within the new Tagboard Producer interface, so you no longer need to navigate back & forth to your account dashboard to make edits.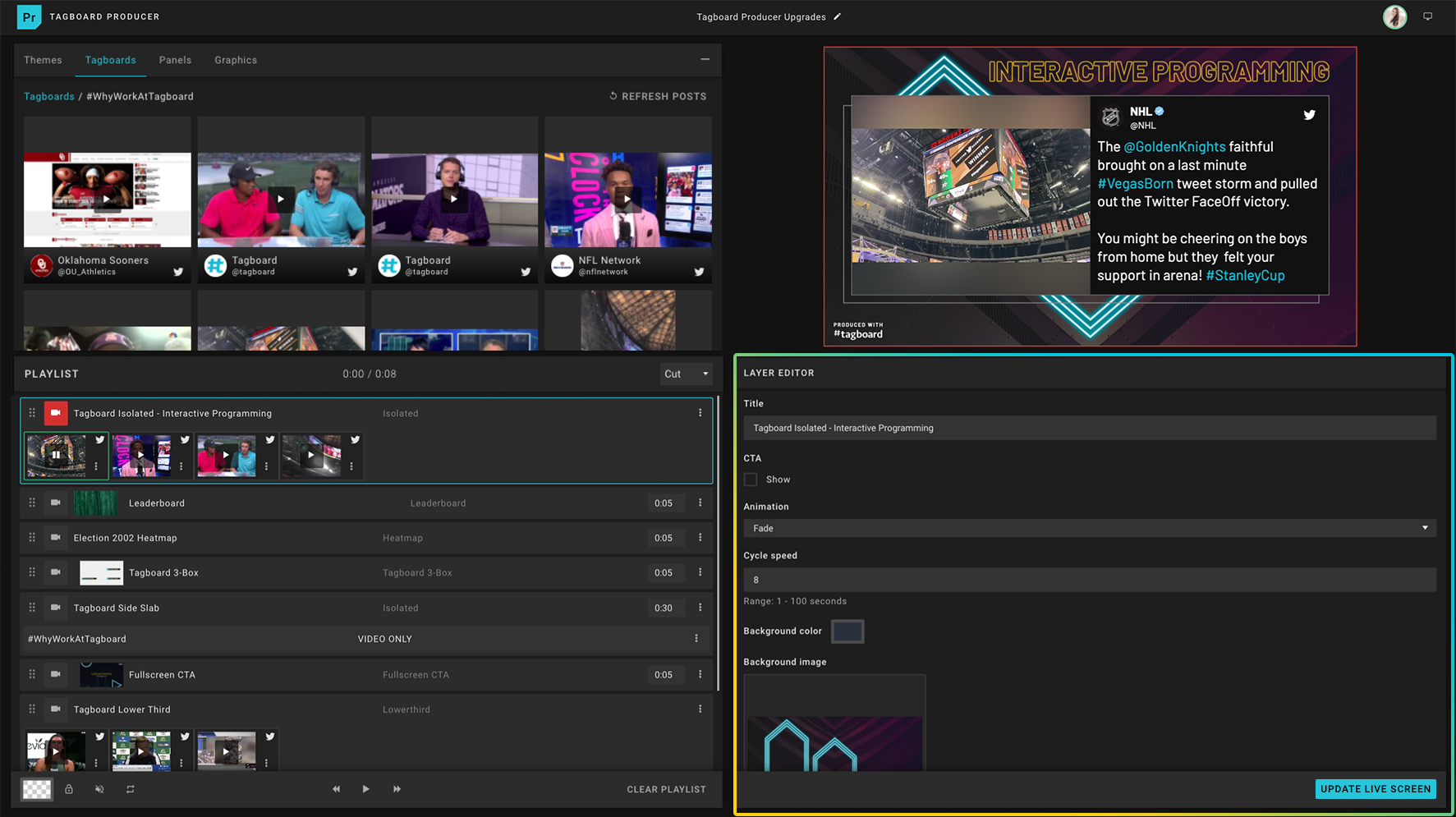 Real-Time Updates: Want to change the call-to-action on your display or update the background? How about changing the score in a graphic? You can seamlessly do it all live, in real-time, without ever even taking the content off-screen.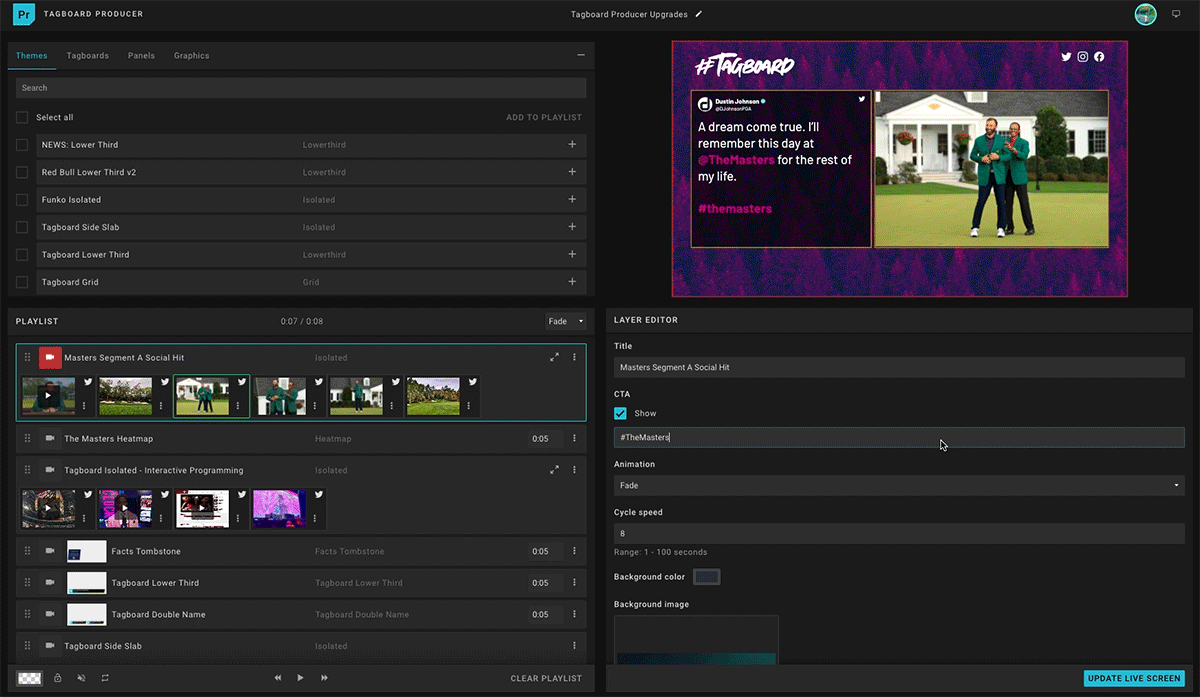 Cleaner Layout: Gone are the long, horizontal content timelines that can be tough to manage (whether you're looking at a giant monitor or on your laptop at home). The new and improved layout will maximize your screen space with a vertical playlist, plus the ability to minimize portions of Producer to make more space for an expanded timeline.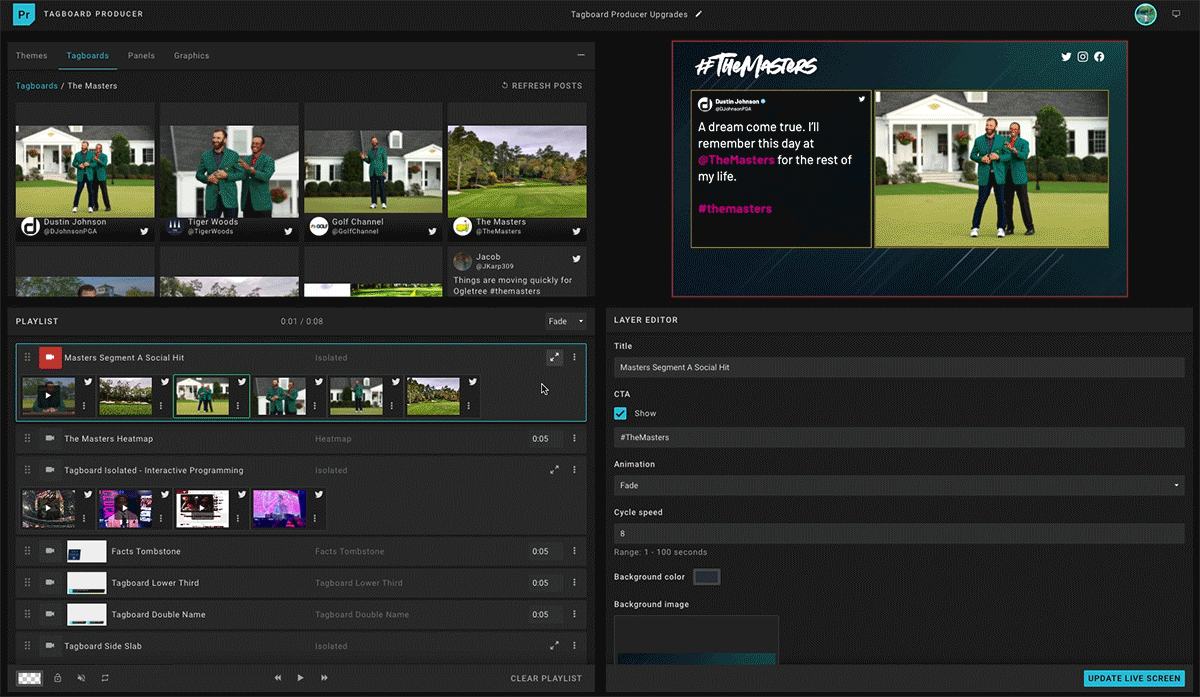 WHAT'S NEXT?
We're just getting started. We have a series of updates coming to Tagboard Producer to make it even easier for you to tell powerful, interactive stories. We're talking features like multiple elements live at once and a preview window. #StayTuned
If you have any questions about this update or want to get started with a new account today, feel free to reach out to success@tagboard.com. Our support guides are also chalk-full of best practices and information about how this product works.