The Problem
Content production beyond the gameday experience is a huge revenue driver for sports franchises. For years the cost and complexities associated with producing midweek, pre-game, or post game shows forced teams to outsource that content to local affiliates or third-party production teams. Achieving the professional quality that could match what fans viewed on linear television would require hiring a robust and experienced production team, and a major investment in the hardware/studio needed to pull it off.
What We Did
Tagboard graphics for all overlays on live and tapped programming
Interactive overlays for live engagement with Commanders fans around the world
Tagboard's Adobe integration for uploading layered graphic templates in one-click
QR codes to drive ticket and team merchandise sales
Stats heavy graphics powered by a Tagboard integration with Google Sheets
Cloud production for team collaboration from any location
The Result
Blending Tagboard's interactive cloud graphics with the software of vMix for video mixing and switching allows the Washington Commanders to produce a "professional quality look without having to own all the machines, computers, equipment needed to to accomplish that in a traditional TV studio environment". Not only has it increased the quality of the program, but the cloud graphics efficiencies have increased the amount of content they produce on a weekly basis and has dramatically increased the amount of sponsored partnerships on their shows.
With a goal to produce the highest quality content possible, meet the needs of their partners and sponsors, and showcase the team in the best light possible, the Washington Commanders turn to Tagboard to bring their productions to life.
Having spent a decade producing shows like SportsCenter at ESPN before coming to Washington, Ryan Yocum, the Commanders' Director of Broadcast and Studio Production, knows what he's looking for in broadcast-quality production. "I also know the resources that are required to do a lot of that, and what Tagboard lets us do is achieve a professional quality look without having to own all the machines, computers, equipment needed to to accomplish that in a traditional TV studio environment."
In addition to relying on cutting-edge technology, Yocum built a lean but dedicated team willing to wear multiple hats to produce professional content. Jason Johnson, the Technical Operator on the team with 17 years of broadcast experience, says, "I've worked at other places where you have a Chyron operator. We can't have that here. We just don't have a team big enough for that. We need Swiss Army Knives."
When it comes to designing and producing all graphic overlays and interactive elements for their shows, those Swiss Army Knives are Mady Benton and Anna Newkirk. Both started as interns and have since grown into their roles, which encompass various aspects of show production, including operating Tagboard.
Tagboard's user-friendliness allowed Mady and Anna to quickly adapt to it, and despite having limited design backgrounds, they've been able to create broadcast-quality graphics and produce shows from start to finish. The all-in-one nature of the platform aligns seamlessly with a team of Swiss Army Knives, and allows for flexibility within a live show, "we're able to make quick in-game tweaks if we need to," says Benton, Washington Commanders Associate Producer. "For example, during Gameday Live we're able to change a quick stat line or change a quick graphic or change a quick player headshot. It just really allows you to have that ability to have everything in one place and be able to be edited by anybody."
Newkirk, Washington Commanders Production Assistant, adds, "When you need to improvise, you can because it's all there in front of you and you don't have to go to multiple people to solve your problem. It can be just you."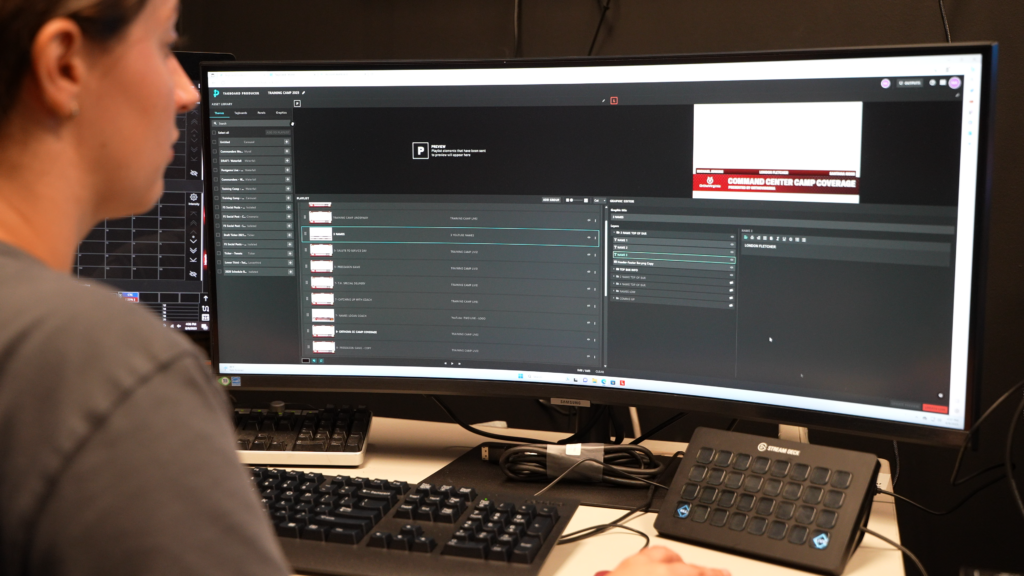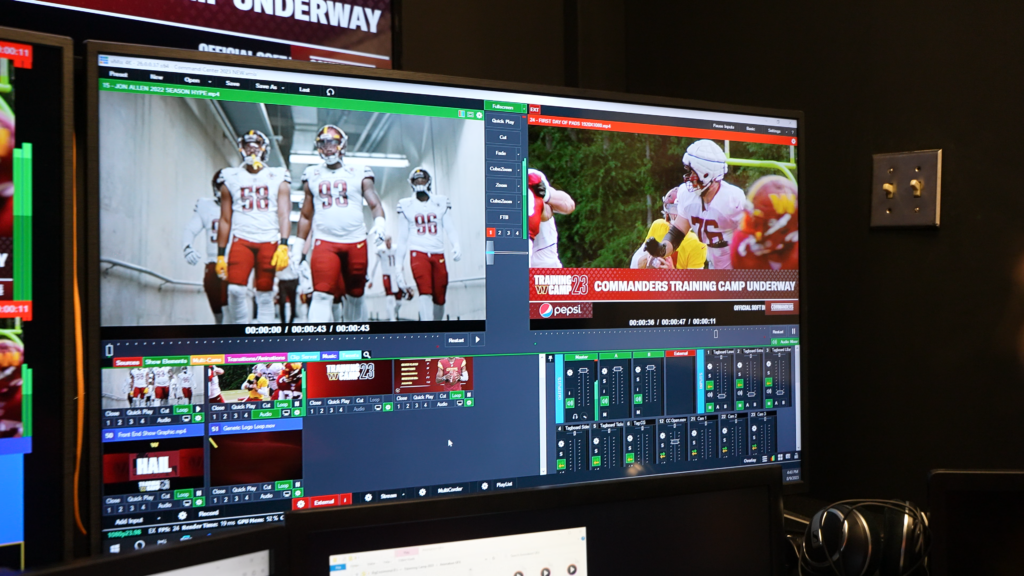 While Mady and Anna manage Tagboard, Johnson switches the show using vMIX's live video streaming software. Together it's a cost effective and flexible setup that doesn't sacrifice on quality. "A viewer watching this wouldn't know that this isn't what currently is our industry standard program, right? It looks and feels exactly the same as that," says Johnson. "And we're able to do that without letting somebody be completely bogged down."
Since Ryan Yocum joined the Commanders three years ago, production quality, viewer watch times, and sponsored elements have all been on the rise. He credits the team and technology he's assembled for their content production. "Without Tagboard, I'm not sure that we're able to put out the level of quality that we currently are at the pace that we're able to put it out," Yocum acknowledges.
Commanders productions see dramatic increase in partnerships
The Commanders' ability to create more content has opened doors to additional sponsorship opportunities within their programming. Yocum notes, "We've seen a dramatic increase in partnerships on our shows, and a lot of it is because we have the ability to do more."
Instead of spending late nights creating graphics, the team now uses that time to generate more content. "If it's taking you five days to do one show, you can't start doing six shows," explains Jason Johnson. "But we're able to do six or seven shows. We're able to go live 2 to 3 times a week because everything is working efficiently."
Mady and Anna incorporate sponsor logos into graphic overlays and find real estate for new logos as they continually brainstorm show designs. According to Benton, "it's been very easy to build. And then also very easy to implement into our shows and to make sponsors happy with the way that it looks."
Intuitive graphics builder meets broadcast quality output
"Tagboard really is one of those platforms that kind of allows you to have a minimal design background but still create really good quality products for your shows" says Benton.
Built on AWS technology, utilizing services such as AWS Fargate, EC2, S3, SNS, and many more, Tagboard offers the speed, reliability, and flexibility the Commanders rely on for daily live content production.
"The other day we had a lot of talent change positions, so I had to change where they were being named. I was able to quickly change the name fonts for who was there, whether it was the order of where they were located," notes Newkirk.
Bringing everything together allows the Commanders to deliver an elevated experience to their viewers, fans, and sponsors.
"I don't need to embellish, I don't need to rah rah, Tagboard. It's just here's what it did for us and here's what it's still currently doing for us. Then here's the next thing that we're trying to make it do," concludes Yocum. "Who wouldn't want to make their productions easier and have the opportunity to bring more dollars in for all those productions as well."
---
Looking to elevate production quality, output, or revenue? Request a customized Tagboard demo today!